Chemical
Chemical substance management at Kumamoto University
Chemical substance management regulations and chemical substance handling requirements
Unlike industry, universities use a wide variety of chemicals in small quantities. Therefore, chemicals must be appropriately handled while considering potential hazards related to their storage, usage, and disposal.
At Kumamoto University in March 2009, we established the Kumamoto University Chemical Substance Management Regulations and the Kumamoto University Chemical Substance Handling Requirements to promote the proper management of chemical substances at our university.
Regulations
At Kumamoto University, chemical substance management briefing sessions are held for leaders in charge of chemical substance management at the beginning of the academic year.
Chemical substance management system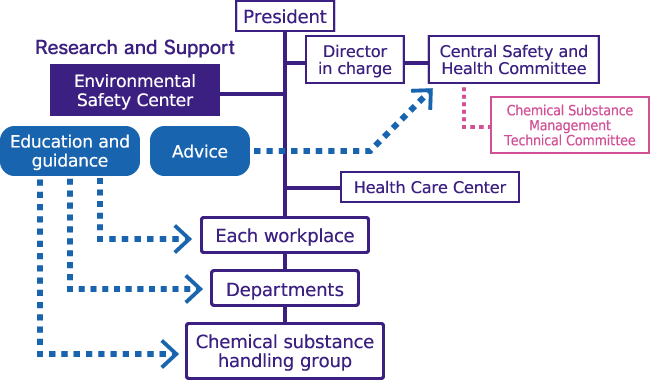 Chemical substance management activity plan
AY2021
Priority items
Business plan
Environment and Safety Center
Chemical substance management
①Holding Chemical Substances Management Technical Committee meetings
②Identify Chemical Substance Handling Group
③Dissemination of rules on chemical substance management
④Inventory and interview survey by YAKUMO
○
⑤Conduct chemical risk assessment
○
⑥Preparation of a list of evaluations of the status of management of hazardous and toxic materials
⑦Implementation of working environment measurement
○
⑧Implementation of work records