Chemical
Activity
Development and operation of the YAKUMO chemical substance management support system
Implementation of the Chemical Management Support System
 In November 2006, Kumamoto University implemented the "YAKUMO" Chemical management support system as a tool for efficiently conducting chemical management. YAKUMO is a system that enables tasks such as management, stocking, and calculating of chemicals to be performed more efficiently by registering the names and volumes of chemicals when they are obtained or used. Moreover, Kumamoto University promotes efficient management of chemical substances by migrating this chemical registration information to the "BUPPIN-SEIKYU" management system and by introducing an experimental liquid waste collection system.
Development of the Chemical Management Support System
 In June 2015, Kumamoto University finished developing the YAKUMO Chemical Substance Management Support System, which was designed to meet the university's current needs for more efficient chemical management. Kumamoto University determined the functional specifications of the system. At the same time, the programing was entrusted to a local company to facilitate communication with the development team and ensure more flexible and agile handling. The development concept was to provide a "chemical management system that was essential to university's researchers". Barcode labels were ingeniously modified so that all laboratory members could see the usage status of chemicals and know if they were hazardous or toxic. Furthermore, YAKUMO was designed to support the export of simplified chemical safety datasheets.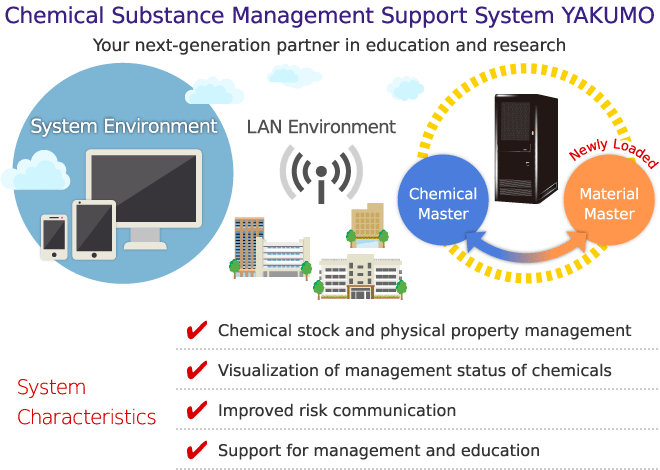 YAKUMO registration support
Kumamoto University provides support for YAKUMO registration when chemicals or high-pressure gases are obtained to reduce the workload of the chemical substance handling group and improve the YAKUMO registration rate. This support is made possible through the cooperation of our chemical and high-pressure gas suppliers.
Increasing the YAKUMO registration rate will improve the accuracy of Kumamoto University's hazard map for chemical substances.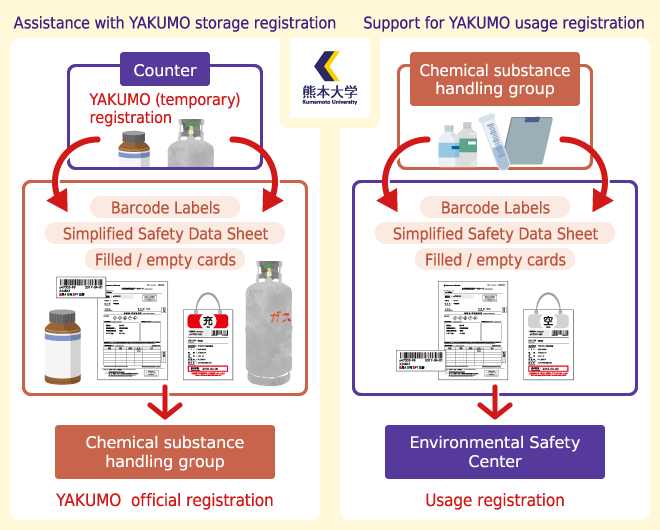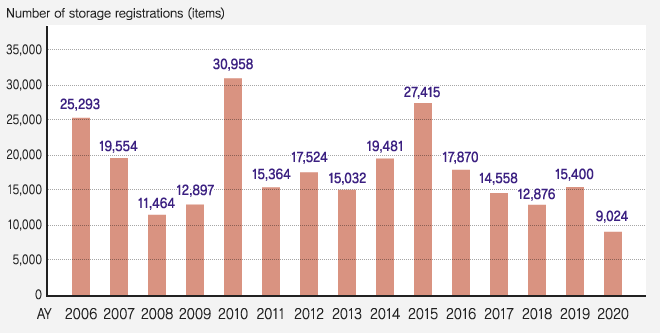 Risk Assessments
Risk assessment involves assessing the hazard risks of chemical substances before using them, and then informing group members and recording the results.
At Kumamoto University, the Central Safety and Health Committee decides on the implementation policy, and the Environmental Safety Center provides guidance and coordinates the implementation.
Kumamoto University conducts risk assessments every year, considering the mobility of group members (especially students).
In addition, Kumamoto University can use YAKUMO to support the implementation of risk assessment.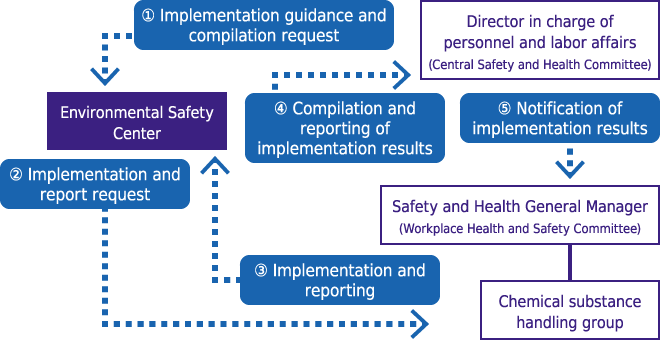 Appropriate management of poisonous and deleterious substances
Poisonous and Deleterious Substances (Poisonous and Deleterious Materials) are chemical substances that could be used in terrorism and crime and thus must be strictly controlled.
For this reason, Kumamoto University uses YAKUMO's inventory function to read barcodes and check whether poisonous and deleterious materials are stored correctly.
Poisonous and deleterious materials are also recorded by weight (or volume) each time they are used. We also check the Poisonous and Deleterious Materials Usage Register in the simplified Safety Data Sheet output from YAKUMO to ensure that the remaining quantity is appropriate.
The Environmental Safety Center compiles the inventory of poisonous and deleterious substances. In addition, after the inventory, we physically enter the laboratory to verify the state of the actual products.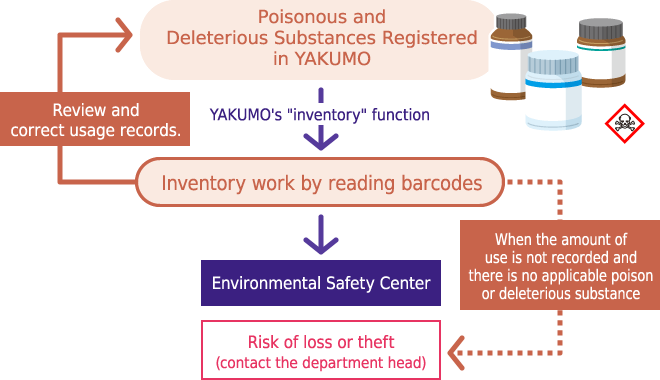 Matters related to work environment measurement
The Occupational Health and Safety Law stipulates the "Working Environment Measurement Law, the purpose of which is to help maintain the health of workers by ensuring an appropriate working environment.
Specific chemical substances are subject to working environment measurements. Hence, when conducting experiments (work) using these substances, it is necessary to perform measurements in the working environment. These are chemical substances that can potentially cause health problems. The performed measurements are used to determine how much these chemical substances can affect workers or working environments based on their degree of dispersion.
Kumamoto University conducts working environment measurements independently and uses YAKUMO to select workplaces (laboratories, etc.) for working environment measurements after risk assessment.
The Environmental Safety Center is equipped with analytical instruments for measuring working environments, and is staffed by technical personnel certified as working environment measurement experts. Therefore, if the results of the working environment measurement are bad, we can immediately check the situation, take countermeasures, and then re-measure to confirm improvements.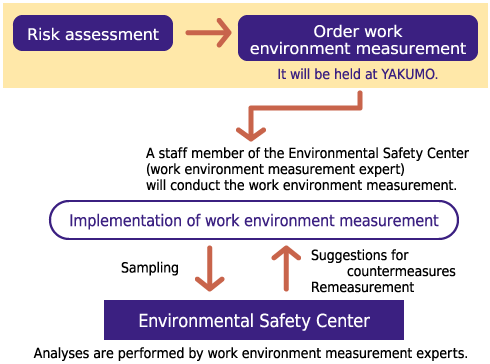 Disposal of chemical substances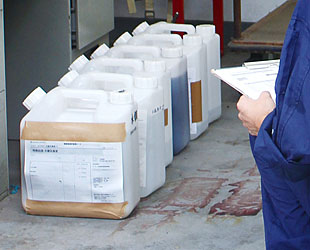 Waste or surplus chemical substances at Kumamoto University must be disposed of in compliance with relevant laws, regulations, and Environmental Safety Center instructions.
Chemical substances are disposed of if they meet the following categories: experimental liquid waste, unnecessary chemicals, experiment waste, toxic sludge, and instruments containing mercury. For more information on the disposal of chemical substances, please see the relevant page on that topic.
Monitoring of drainage(drainage quality measurement)
Drainage quality measurement for sewerage discharge water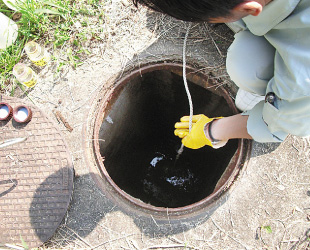 Based on the Sewerage Law, we measure the quality of liquid drainage into the sewerage system managed by Kumamoto City in consultation with city officials.
The Environmental Safety Center compiles effluent drainage quality measurement results, and water sampling and analysis are outsourced to an external contractor. If the results show any behavior that could exceed the effluent standards, we will provide guidance to the department discharging the water.

Water sampling points for sewerage discharge water
Drainage quality measurement in storage tanks (pH only)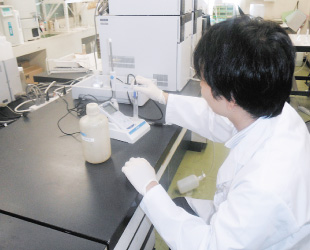 In Kumamoto University, we have a storage tank upstream of the sewage discharge point equipped with a system that stops pumping if the pH of the drainage shows abnormal values. (However, some areas are not pumped.)
Drainage quality measurement in the storage tanks is performed once a month by taking water samples and having only the pH measured at the Environmental Safety Center. If the result is likely to exceed the effluent standard of the Sewerage Law (pH 5.0 to pH 9.0), we will provide guidance to the department that is discharging the water.

Water sampling points in storage tanks