Environmental
Environmental Management at Kumamoto University
Environmental Philosophy
Located at a site blessed with beautiful natural surroundings that include the verdant greenery and clear springs of Aso, the deep blue seas of Amakusa, and abundantly supplied with groundwater, Kumamoto University recognizes that environmental conservation and the development of a sustainable, recycling-based society is a major issue facing the region and the entire human race. Therefore, the university is engaged in numerous educational and research activities, strives diligently to promote environmental conservation, sends people capable of pioneering a sustainable society out into the world, and actively works toward long-lasting environmental improvement and the realization of an "eco-campus" that gives environment due consideration through the cooperation of instructors/staff members and students.
Environmental Policy
We constantly promote advanced environmental studies and research in ecological studies leveraging the university's distinctive features.
We make great efforts in the promotion of strategies for preventing global warming, reduced dependence upon fossil fuels for energy use, reduced production of waste materials, ensuring safe management of chemicals, environmental pollution precautions, encouragement of green initiatives, and increased recycling of resources in education, research, and all the other university activities and operations.
We set environmental objectives and work together with instructors/staff members, students, and members of organizations operating on the Kumamoto University campus to ensure compliance with all environmental laws, ordinances, and campus regulations, as well as to promote ecological conservation endeavors.
We develop an environmental management system, as well as conduct regular reviews and monitor the continual improvement of the system through environmental audits.
We actively promote awareness and increased activity amongst the local community and general population based on the findings of environmental studies.
These policies are distributed in hard copies and made common knowledge amongst all Kumamoto University instructors/staff members, students, and organizations. These policies are also disclosed to the public via other print media and the university's homepage on the Internet.
Environmental Management System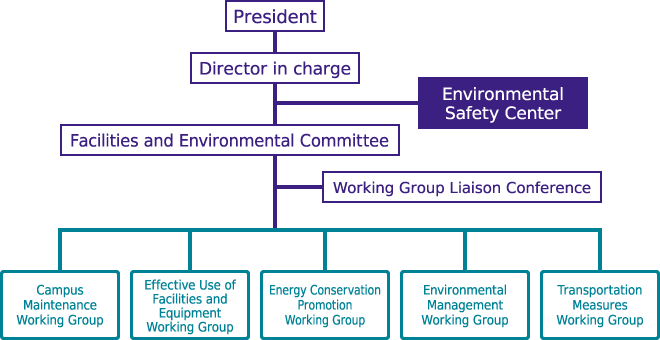 Environmental Management Planned Activities
Environmental Management Overview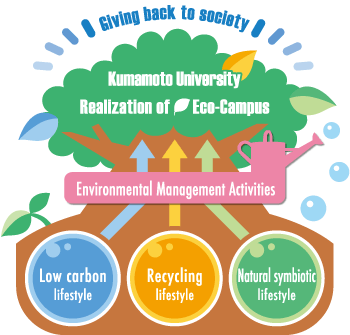 These classifications aim to make it easier for society (target) to understand and support the work our university members carry out in consideration of the environment. Each classification and its keywords are shown below.
| Classification | Keywords |
| --- | --- |
| Environmental management activities | Environmental management, environmental law, environmental administration, environmental assessment, environmental education, environmental impact assessment, environmental rights, environmental efficiency, environmental tax, environmentally-conscious design, environmental reports, environmental labels, environmental risks, environmental ethics, environmental economics, etc. |
| Low-carbon lifestyle | Energy, new energy, biomass, fuel cells, energy saving, global warming, greenhouse gasses, fossil fuels, climate change, heat island phenomenon, eco-cars, eco-housing, eco-driving, etc. |
| Recycling lifestyle | Recycling, waste, garbage, garbage disposal facilities, zero emissions, illegal dumping, etc. |
| Natural symbiotic lifestyle | Global environment, natural environment, biodiversity, ecosystem, wildlife, environmental pollution, air pollution, water pollution, marine pollution, soil pollution, ozone depletion, forest decay, desertification, acid rain, forestation, community forests, environmental purification, environmental analysis, air detoxification, wastewater treatment, public hazards, etc. |
Environmental Management Planned Activities
2017-18 Academic Year
Classification
Included Items
Activities
Environment and Safety Center
Low-carbon lifestyle
Energy conservation promotion
Energy-saving measure implementation
Publicize energy conservation promotion activity goals
Promote eco-commuting
Establish "won't drive my car" week for teachers (continuing activity)
Recycling lifestyle
Sorting
Cleaning up garbage collection locations
○
Promoting reuse
Consider systems for notifications regarding reusable items
○
Natural symbiotic lifestyle
Campus unity
Review of campus green area management guidelines
Consider implementation Cleaning Day procedures for keeping our campus clean
Preventing environmental pollution
Chemical substance education by e-learning
○
Environmental management activities
Improvement of environmental education
Consider educational content for the Environmental Education Program Certification System (also for the COC project)
○
Improving environmental communication
Reconsider design and editing as well as use of environmental reports
○